Register
KCUYA Hosts Camp Invention · Co-Ed
MonTueWedThuFriSatSun 9:00am to 3:30pm

The KCUYA will be hosting an in-person Camp Invention, a one week long nationally acclaimed summer program, from the The National Inventors Hall of Fame.
Special thanks to Populous for sponsoring the KCUYA as a host site this summer and providing Camp Invention free of cost to our participants!
Details:
About: Camp Invention is a one week summer program where children's creativity, innovation, and problem-solving skills are challenged and developed in fun and exciting ways. Our top priority is to inspire future innovators and build their confidence in the natural ability to dream and create. Children are presented with fun, hands-on challenges that encourage creative problem solving, teamwork, entrepreneurship, and innovation. Camp invention is led by your experienced local educators and new curriculum is introduced each year, inspired by the Inductees of the National Inventors Hall of Fame!
*There is no baseball/softball for this camp- This camp will follow specific curriculum designed by the National Inventors Hall of Fame. To see the program in action or looking for more details visit: https://www.invent.org/programs/camp-invention
Dates: Monday, August 10 - Friday, August 14
This camp is in-person camp
This camp is only 1 week long and you must be able to commit to every day as the curriculum builds each day. This also helps ensure we are good stewards of the sponsorship funds.
Time: 9am - 3:30pm each day
Grades: 4th, 5th, and 6th grades only. The max capacity of this camp is 42 students. Open to both boys and girls.
Lunch: We have applied to Harvesters for their summer meal program. (We hope to be able to provide lunch each day and will confirm our ability to do so as the dates get closer, but in the event we don't have Harvesters please be prepared to send your child with a lunch)
Cost: FREE!
Location: KC MLB Urban Youth Academy-1622 E 17th Terr. Kansas City, MO.
Drop Off & Pick Up:
- Drop off and pick up will be at the front gate entrance of the academy where a staff member will greet you
- All parents/guardians dropping off a participant will be asked at the minimum the following questions :
Do you or do any of the children you are dropping off have a fever, cough, shortness of breath, difficulty breathing, other respiratory symptoms, or at least two of the following symptoms: chills, repeated shaking with chills, muscle pain, headache, sore throat, or new loss of taste or smell?
Have you or any of the children you are dropping off: Had any of these symptoms since the last time you were here? Been in contact with anyone with these symptoms since the last time you were here?
- Temperature checks: Each participant will have their temperature checked at drop off. If temperature reads above 100*F that participant will be unable to enter the academy for the day.

- Each participant must bring a face covering with them
COVID-19 Health & Safety:
- All participants, staff, volunteers will be required to have and wear a face covering during the camp. We understand this may be a challenge for some participants so please keep this in mind when determining registration for this program as it will be enforced. At times when social distancing of 6ft is able to be maintained the covering may be pulled down but all must have and wear a face covering in any area or while performing an activity which will involve close contact to others or where 6ft is not feasible
- Participants will be split into 3 groups and will remain in their designated classroom for the duration of the day

- Social distancing will be followed
- Increased cleaning and sanitizing of surfaces and materials will take place throughout the camp
- Promotion of increased hand washing practices and hand sanitizer will be available as well
Any additional questions please reach out to KCUYA's Educational Program Coordinator: Tia Sandoval at Tia.Sandoval@Royals.com
Camp Invention information flyers for your reference: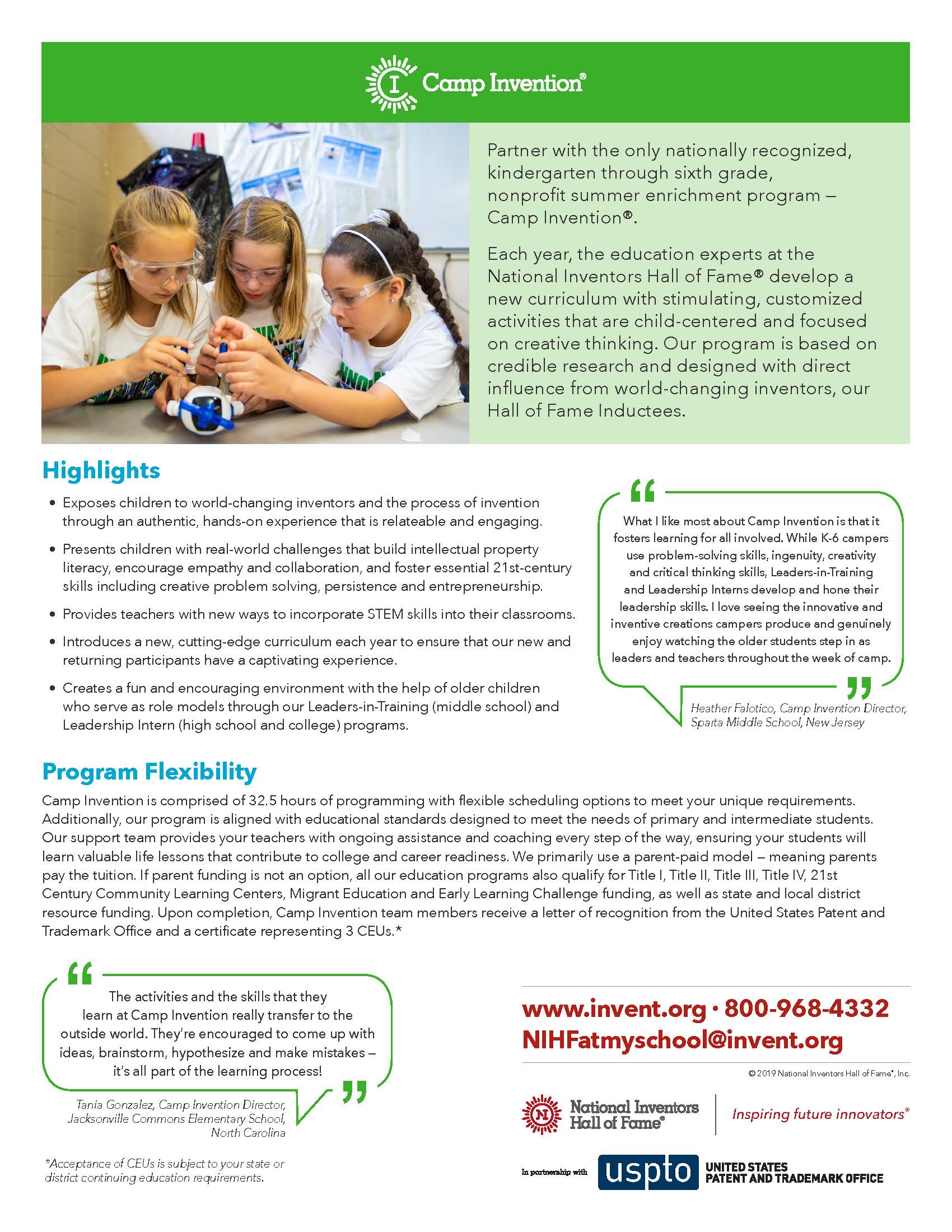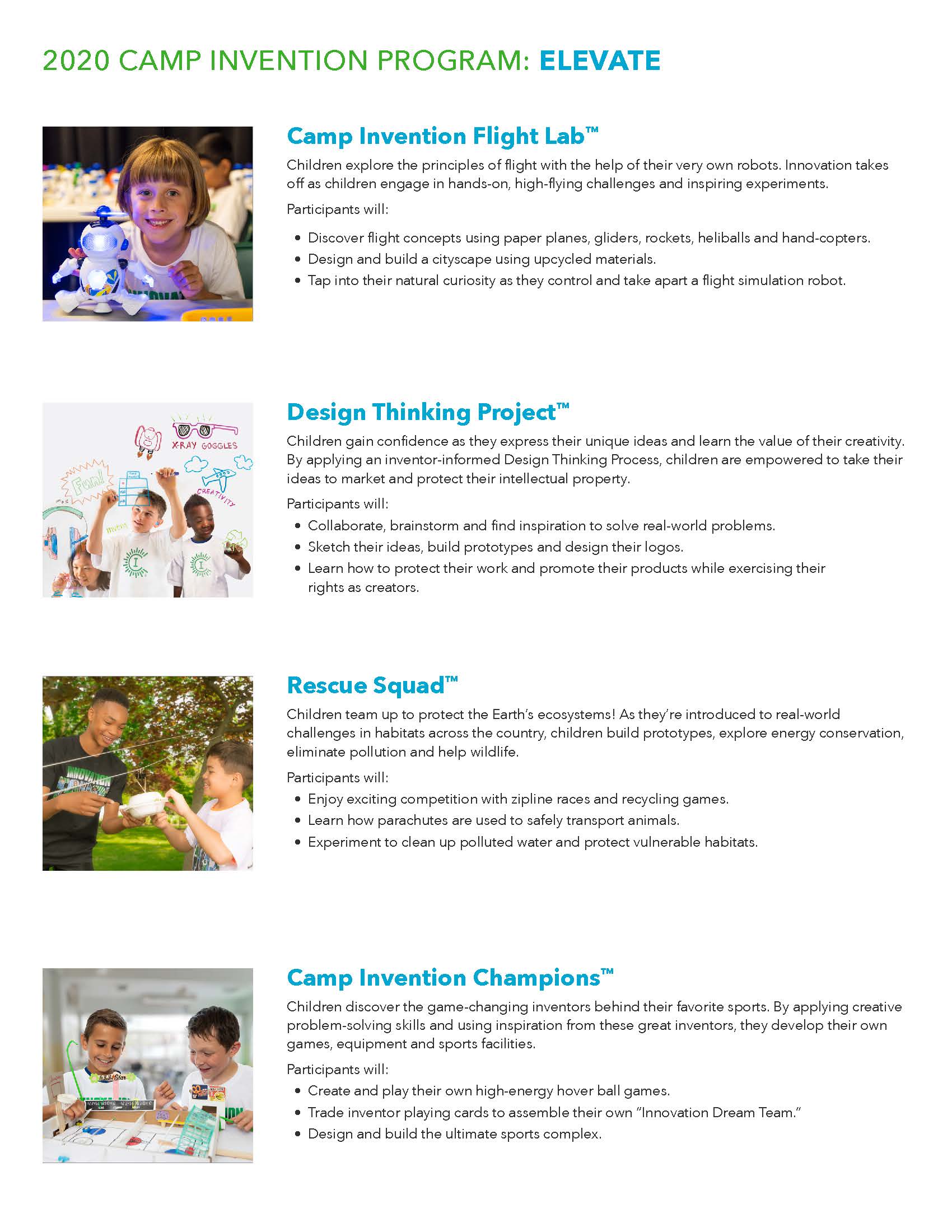 Event Notes:
Now accepting registrations!